Insights
New CountryRisk.io Insights Platform features for you
New CountryRisk.io Insights Platform features for you

Bernhard Obenhuber
Jun 13, 2022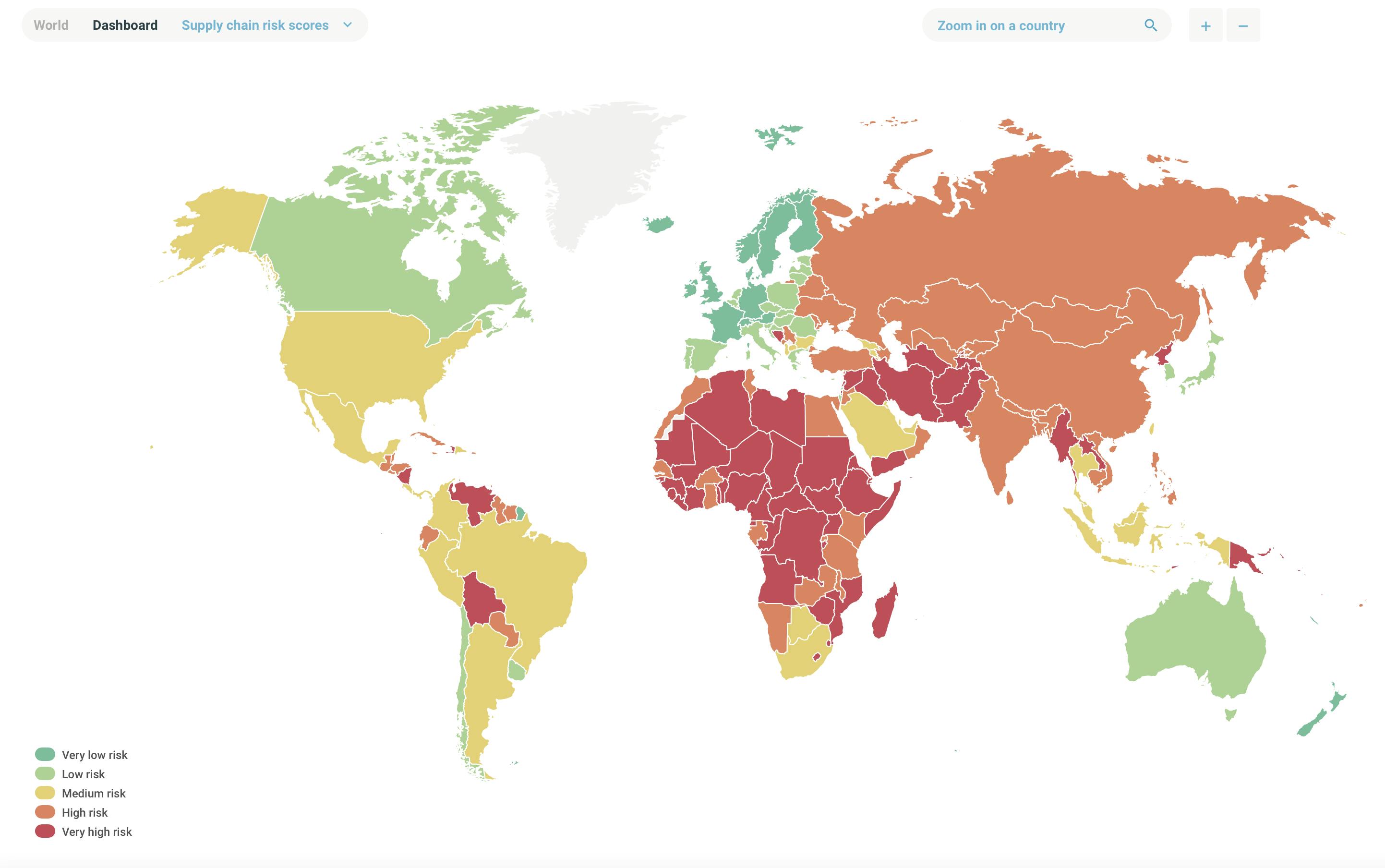 At CountryRisk.io, our mission is to help organisations make better country risk decisions. We do this by giving our members access to our quantitative risk scores, curated statistics, reports, and newsfeeds. 
Over the past few months, we've been working hard to take the CountryRisk.io Insights Platform to the next level by improving its existing capabilities and developing powerful new features. These new features are now available to our premium members.
Introducing our Supply Chain Country Risk Score
In the last five years, many countries have introduced new regulatory requirements for in-scope companies to identify and assess risks in their supply chains. This involves tracking many different kinds of risk, from human rights violations to negative ecosystem impacts. 
Our Supply Chain Country Risk Score is the latest addition to the CountryRisk.io risk score family. We created this new Risk Score to help your organisation meet the latest regulatory requirements for supply chain monitoring and assessment. 
To calculate the Supply Chain Risk Index, we selected 85 indicators for their informational value and data availability. We sourced data from a wide range of reputable international multilateral institutions, including the United Nations, World Bank, and the World Justice Project. We also sourced data from special interest organisations that focus on relevant subjects, such as the Basel Convention, the Stockholm Convention, and the Financial Action Task Force (FATF). The underlying geographic universe covers 250 countries and territories. 
We wrote a blog post (link) explaining everything you need to know about our Supply Chain Risk Scores. And we've also published our complete Supply Chain Risk Score methodology (link).
Although we offer a standardised Supply Chain Country Risk Index, we also understand that a bespoke solution may be better for companies that want to apply their own risk definitions, parameters, and weightings. We also recognise that different companies may want to include different indicators, depending on which they see as material. So, we also offer a customised Index solution that empowers companies to tailor their own supply chain risk metrics according to their unique due diligence and governance processes. If you'd like to discuss your options, just send us an email at [email protected].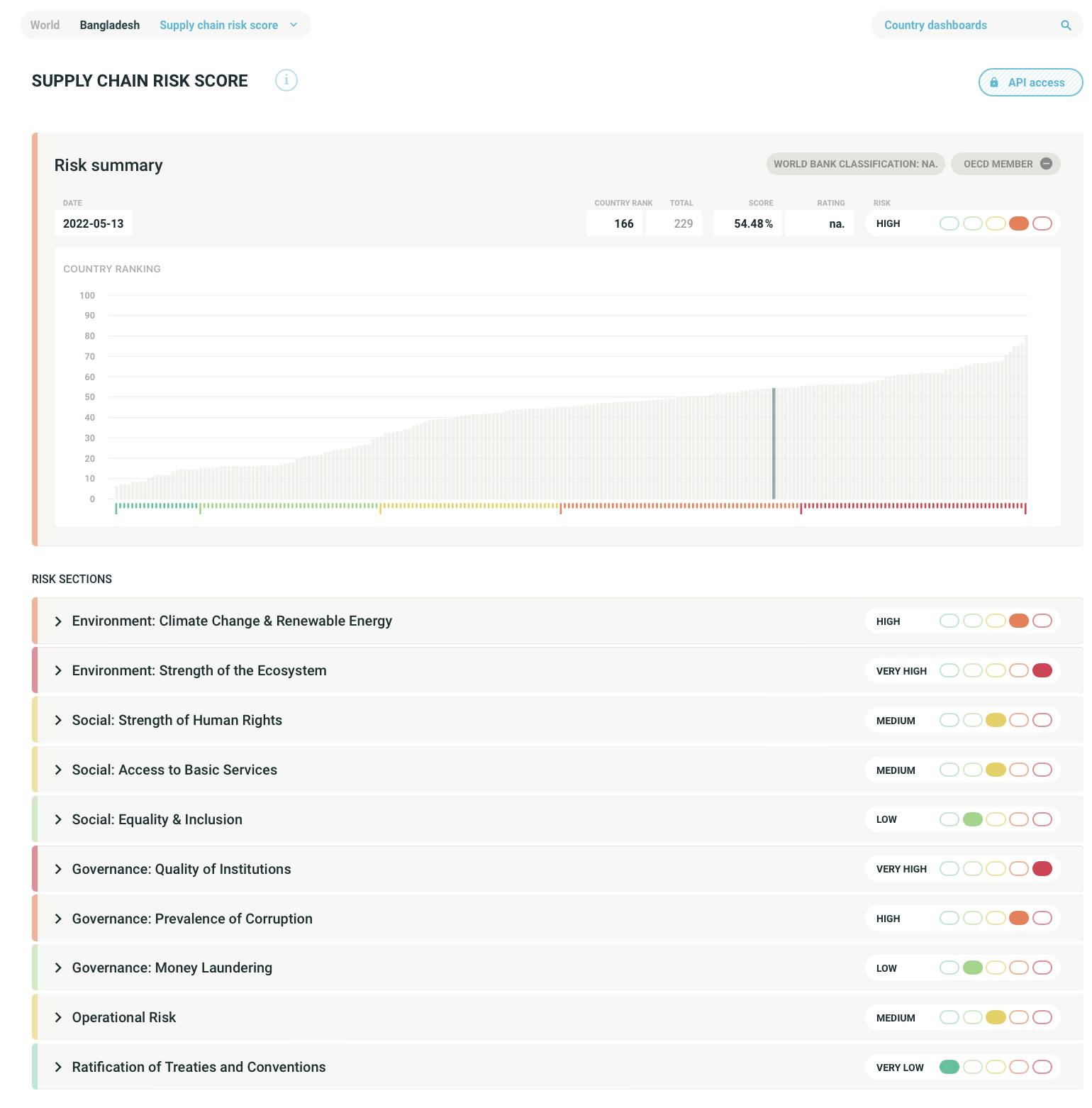 New: Report analytics using natural language processing
It's increasingly easy to find ourselves dealing with information overload, and finding relevant information for specific issues can be time-consuming and frustrating. As such, achieving efficient information management is a key challenge for all of us. Like many of you, we want the right information at our fingertips, so we can focus on making good country risk decisions instead of scouring through data from multiple sources. 
That's why we aggregate research reports from a range of sources and, in turn, why many of you value this feature of our platform. So, we wanted to make our report aggregation even better. We now apply natural language processing to every report, tagging each one with searchable country risk-relevant keywords such as "climate change" and "stagflation".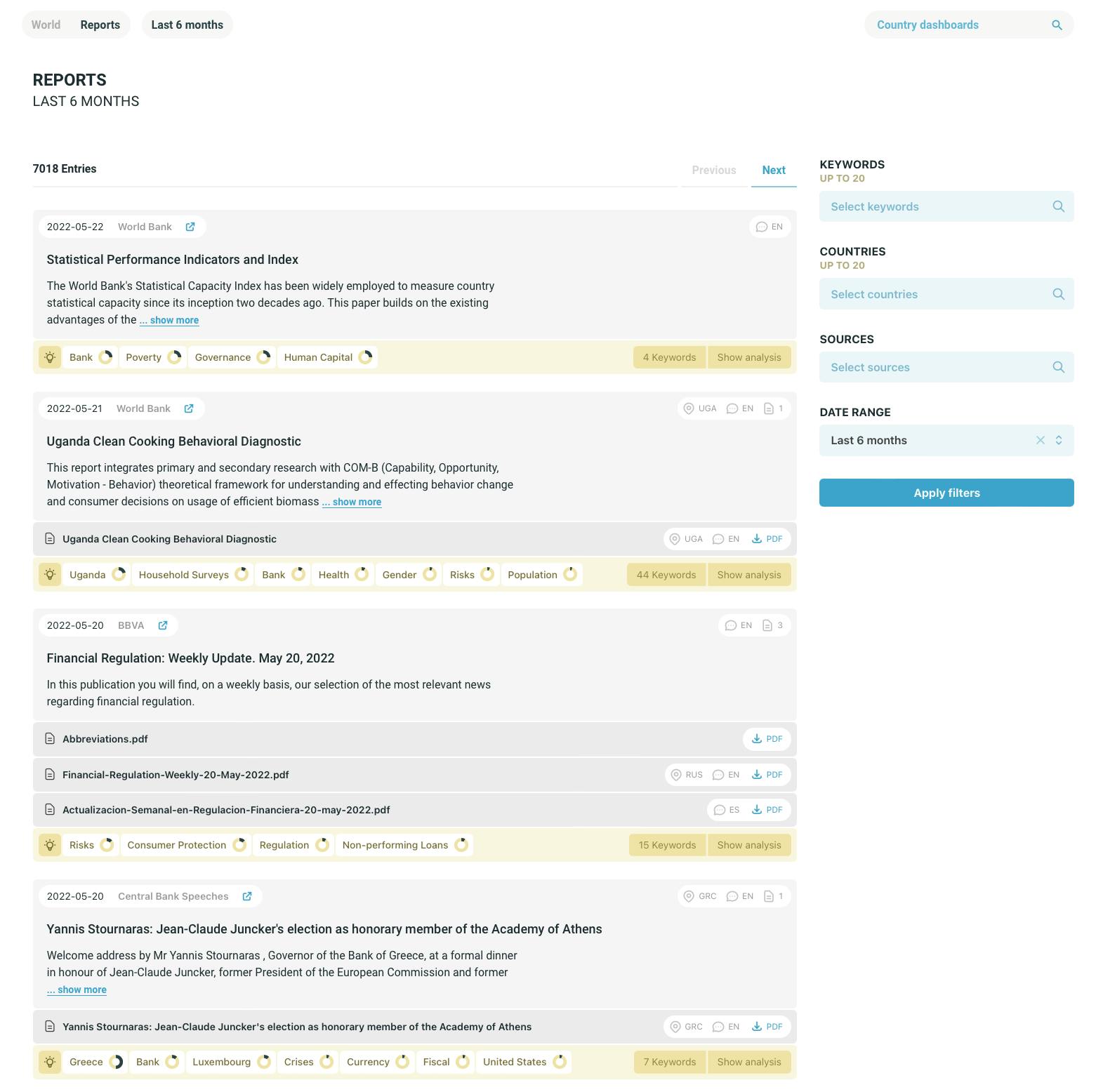 For each report, you'll see the most important keywords and topics. You can dig deeper by delving into the analysis, which opens an overlay displaying every sentence in the report that includes the keyword of interest alongside a sentiment score ranging from -1 for very negative to +1 for very positive. And one click will take you to the document's original source (we don't host the individual reports, but instead act like a search engine for relevant content).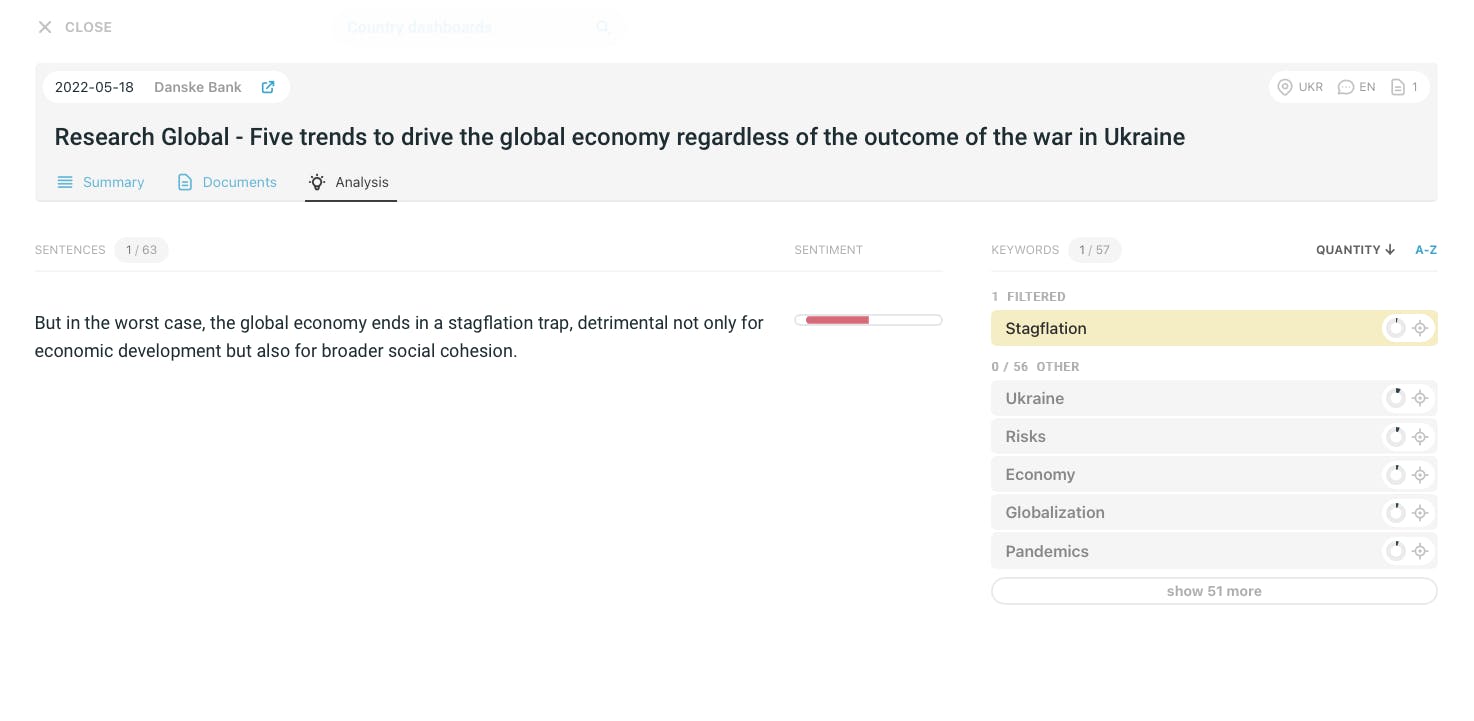 If you want to learn more about our implemented text analysis, please do get in touch. 
Improved: Country Dashboard, News Page, and Risk Score Country Page
We've also revamped the country dashboard with a new grid layout to show the latest news and reports on each country. The redesigned dashboard also integrates our new Supply Chain Country Risk Score. Similarly, we redesigned  the News page to align with the new layout.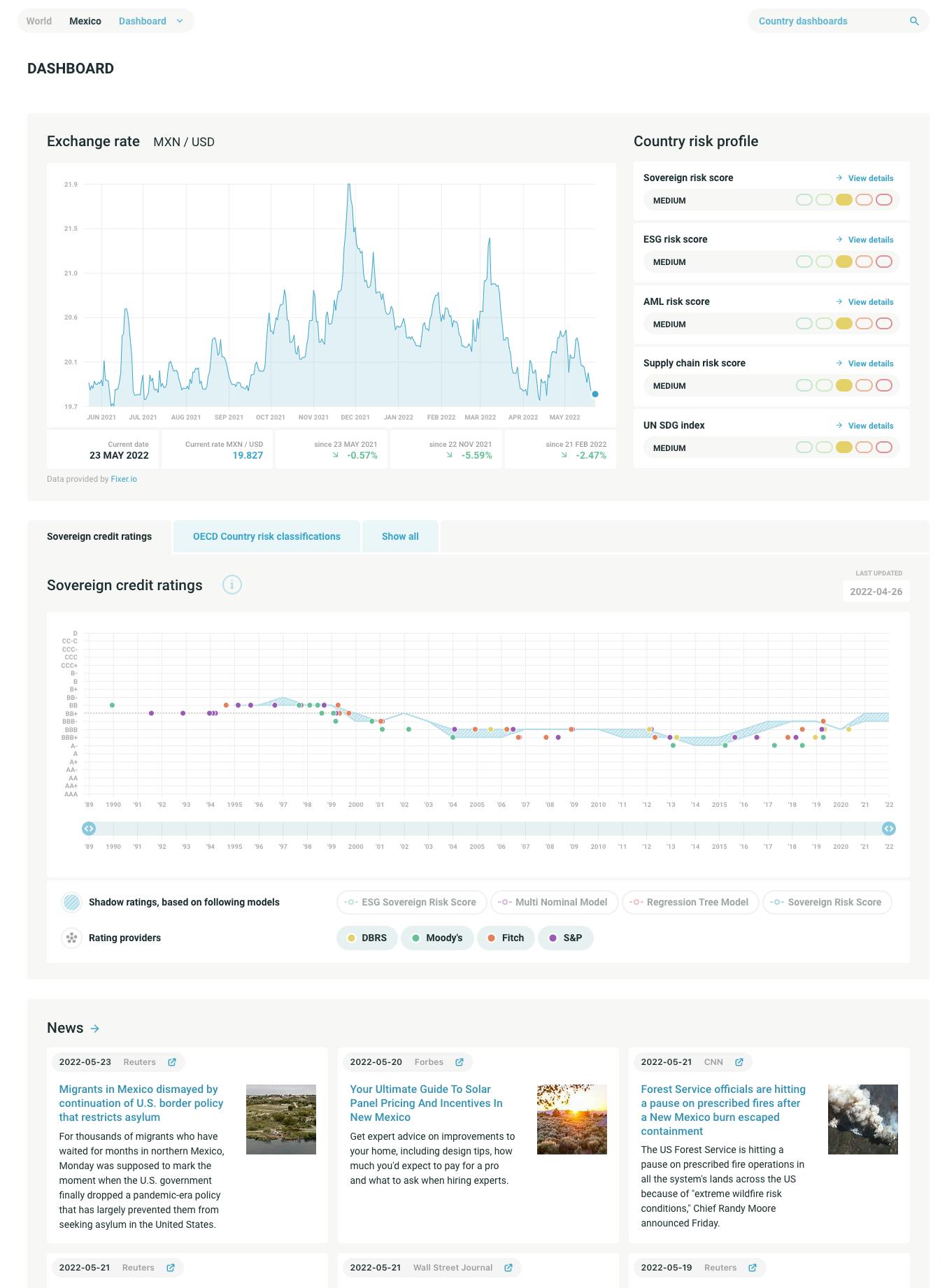 Finally, we added a new chart to the country risk score pages which shows that country's overall ranking. For example, the screenshot below shows Mexico's Sovereign Risk Score, with the top chart displaying the historical evolution of its risk score and the bottom chart showing Mexico's ranking out of the 190 countries we cover.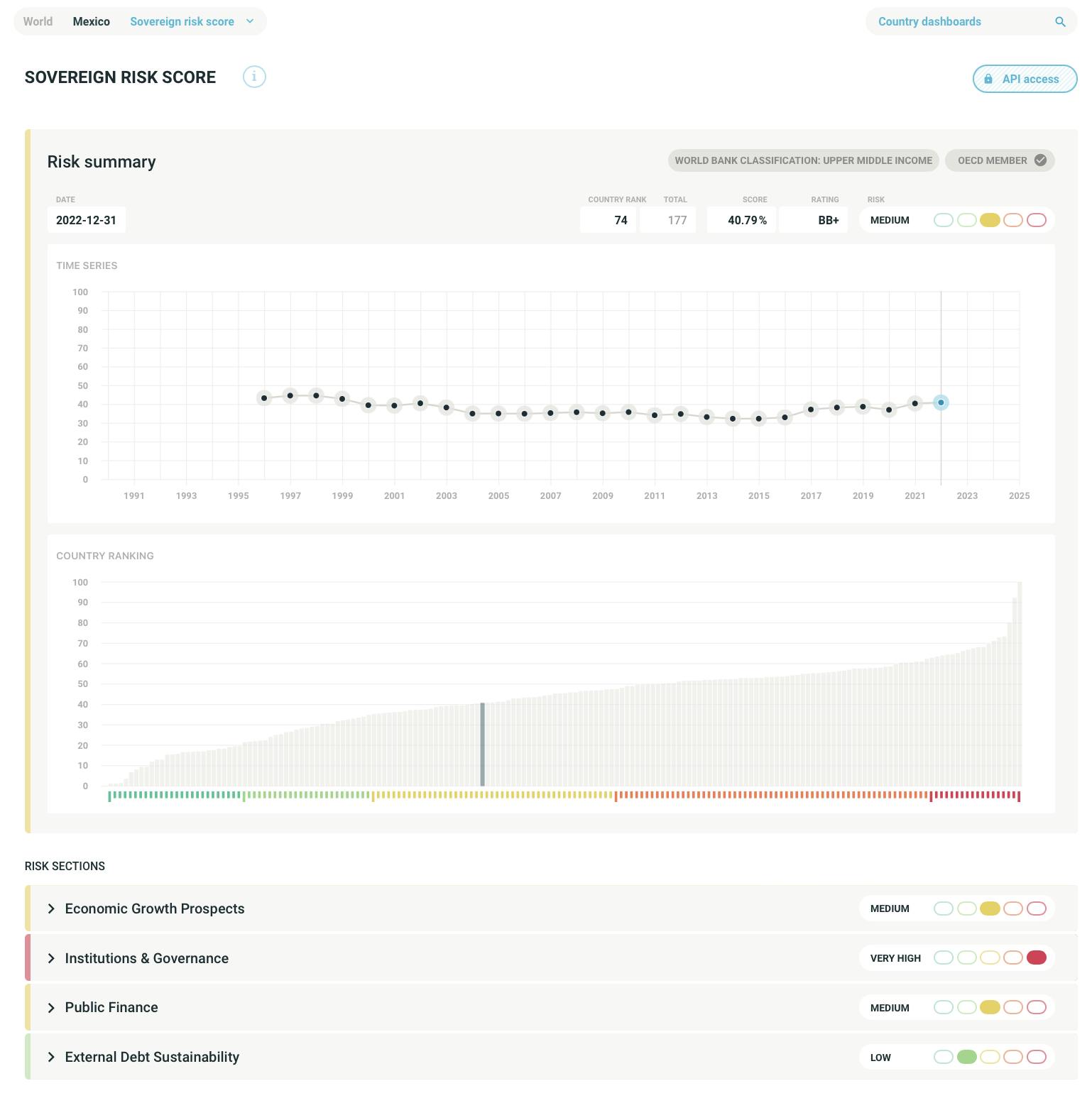 More to come
We hope you find these new features useful and that they support you in your daily work. We're already working on exciting new features, and we always love hearing your feedback and ideas for what we should do next. If you'd like to share yours, you can do so by emailing [email protected].

Written by:
Bernhard Obenhuber