ESG is the new standard

Bernhard Obenhuber
Jul 24, 2020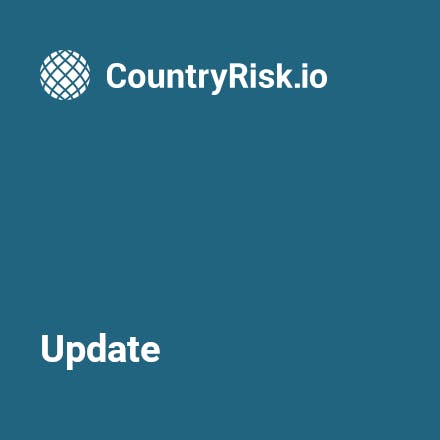 We at CountryRisk.io have been busy over the last year incorporating the excellent feedback from our users into the platform.
ESG sovereign risk: CountryRisk.io's new standard
Our most significant milestone has been the successful union of our standard and ESG sovereign risk frameworks into a single model. And this doesn't just mean that we've done away with separate logins for each platform. Now, ESG sovereign risk is our standard rating framework.
We decided to combine our standard and ESG sovereign risk frameworks for two reasons. The first was, quite simply, feedback from our wonderful community. You asked us to integrate even more Environmental and Social factors into our overall model, and we listened.
The second reason was our recognition that understanding such factors will only become more important to discerning investors in assessing sovereign risk exposure in the coming years. Although many of these indicators — such as physical or transition risk degradation and gender equality — are considerably longer-term considerations that could weigh on the probability of sovereign default, investors and key stakeholders are now taking a more holistic view of sovereign risks.
"The future of financial risk analysis is integrated", says Élie Hériard-Dubreuil, advisor to CountryRisk.io. "The materiality of Environmental, Social and Governance risks is rising, and it is all the more important to long-term risks, at the heart of country risk decisions. Some ESG factors however are not, or not yet, predictors of sovereign risks. For example, whether a country applies the death penalty or not does not correlate with sovereign risk at all. Beyond integrated risk analysis, ESG assessments will therefore remain."
Adds Hugo Banziger, "Further to Élie's point and against the backdrop of the ever expanding monetary base, the analysis of the related sovereign risk becomes more and more important."
If you'd rather stick with the traditional framework, don't worry — it's not going anywhere. With just a click, you can switch between the two models before starting a rating.
What else has changed?
Aside from combining the two frameworks, we've added some new indicators to our models and removed some old ones. You can find a complete list of these changes in the latest version of our methodology (Link). We also gave our platform a lick of paint here and there to make sure your user interface stays the best in the industry.
Schedule your platform walk-through now
These might feel like pretty big changes, so we're inviting you to schedule a webinar for a platform walkthrough with one of our experts. If you're worried that you're not quite ready to start rating countries just yet, don't let this get in the way. We're here to help you discover your hidden talents. You can select a convenient date and time here (Link).
Welcoming our new Advisory Board: Steering us in the right direction
As we chart our way forward, we recognise that we can't go it alone. Our search for expert guidance has led us to two talented credit risk veterans, Hugo Banziger and Élie Hériard Dubreuil.
Élie Hériard-Dubreuil said "Sovereign risk analysis faces unprecedented challenges. I am thrilled to join the advisory board in this critical period, where the decisions that all of us make today will bear so much impact tomorrow. Now more than ever, investors and other stakeholders are in need of innovative and in-depth analysis of sovereign risk, a motivating challenge for the great CountryRisk.io team and community!"

Élie Hériard Dubreuil is a veteran in the field of credit risk ratings, having started his career at Fitch Ratings in structured finance and credit risk modelling. After a few years in investment banking, Élie spent over 12 years in various senior positions at S&P Global in rating and methodology for sovereigns, public finance and financial institutions, most notably as its global head of supranationals.

Hugo Banziger serves on the board of the International Committee of the Red Cross and chairs its audit committee. Between 2014 and 2018, he was a Managing Partner at Lombard Odier, a Geneva-based private bank. At the same time, Hugo served as Chairman of the EUREX Group, Europe's largest exchange for traded options and financial futures. He also chaired the Advisory Panel to the Committee of European Banking Supervisors from 2007 to 2010, co-chaired the Enhanced Disclosure Task Force of the Financial Stability Board, and was a member of the EU High-Level Expert Group on reforming the structure of the EU banking sector (Liikanen Group). Between 2006 and 2012, Hugo was a member of Deutsche Bank's Management Board, where he was Chief Risk Officer responsible for capital, liquidity, legal, compliance and security.
Hugo holds a PhD in Economic History from the University of Bern. He served as a Lieutenant Colonel in the Swiss Armed Forces and has taught at the University of Chicago, the London School of Economics and the Lee Kwan Yew Institute for Public Policy in Singapore.
Stay tuned… We're not done yet!
We couldn't have done this without our community's feedback and validation: Our users find value in all our monthly risk scores, which come very handy in calculating risk exposures on cross-border investments, for example, or in identifying countries with improving or deteriorating trends.
Our country dashboard gives a comprehensive snapshot of a country's risk profile, the community's rating results for it and how a user's own ratingcompares against it. From there, many of our members found it worthwhile to drill even deeper into the country by searching for related news and reports.
In other words, these cool in-app tools allow anyone to do everything without having to switch to other search engines for content. CountryRisk.io has made sovereign and country risk rating just more efficient!
While some features will require a subscription, the country risk rating model will remain freely accessible to everyone on the platform. We are committed to our vision of making ESG sovereign ratings a public good.
And finally… There are a few more things coming your way in September and October but here are a few hints: First, early warning systems never go out of style, and second, more information can be gleaned from reports when sentiment analysis is applied.
Sincerely,
Jenny & Bernhard
Co-founders of CountryRisk.io

Written by:
Bernhard Obenhuber