ESG & AML: MODERN SLAVERY
As increasing numbers of consumers and investors demand action around Environmental, Social and Governance (ESG), money laundering and modern slavery, these issues have become key concerns for policymakers.

Bernhard Obenhuber
Oct 09, 2021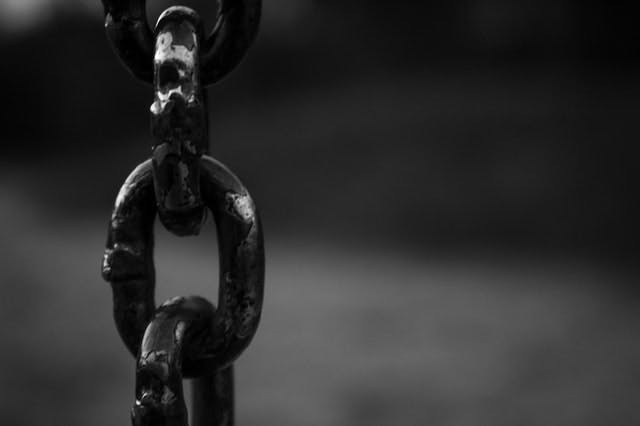 "Greed drives the modern slave trade. This is an economic crime, People do not enslave people to be mean to them; they do it to make a profit." (Bales, Modern Slavery: Its Root Causes and the Human Toll, 2020)
As increasing numbers of consumers and investors demand action around Environmental, Social and Governance (ESG), money laundering and modern slavery, these issues have become key concerns for policymakers. While public pressure was originally focused on individual companies, such as those in the fashion industry, that use child labor, the growing importance of sustainable investing is amplifying country-level attention. Consequently, the headwinds are rising for unsustainable companies and countries alike. And, as we pointed out in an article on the commonalities between anti-money laundering (AML) and ESG analysis, scrutiny can come from both directions. 
Since this article received a lot of interest from our readers, we've decided to publish some follow-up pieces on selected aspects of AML and ESG. For this first sequel, we teamed up with modern slavery researcher and advocate, Boglarka Radi. 
Modern slavery
Slavery has been recognised as a crime for many years and, 70 years ago, was prohibited by Article 4 of the Universal Declaration of Human Rights. The concept of modern slavery is frequently used to capture various exploitative, coercive and abusive practices, including human trafficking, forced and bonded labour, servitude and forced marriage. According to data from the International Labour Organization (ILO), forced labour alone generates over US$ 150 billion in illegal profit annually. 
The ILO estimates that there are currently 40.3 million people living in slavery globally—disproportionately women and girls—including 24.9 million in forced labour and 15.4 million in forced marriage. While nation states hold some 4 million people in involuntary servitude, the private sector is the most significant user of forced labour with around 16 million people in its grip—an enterprise that, thanks to its profitability, is going nowhere fast. In addition, around 4.8 million people are subject to forced sexual exploitation. And this is not just a problem of developing nations, with the tragedy of modern slavery continuing to unfold even in developed countries like Canada, Germany, the UK and the US. Figure 1 shows the prevalence of modern slavery in each country versus its wealth, whileFigure 2 shows the distribution of forced labour by sector.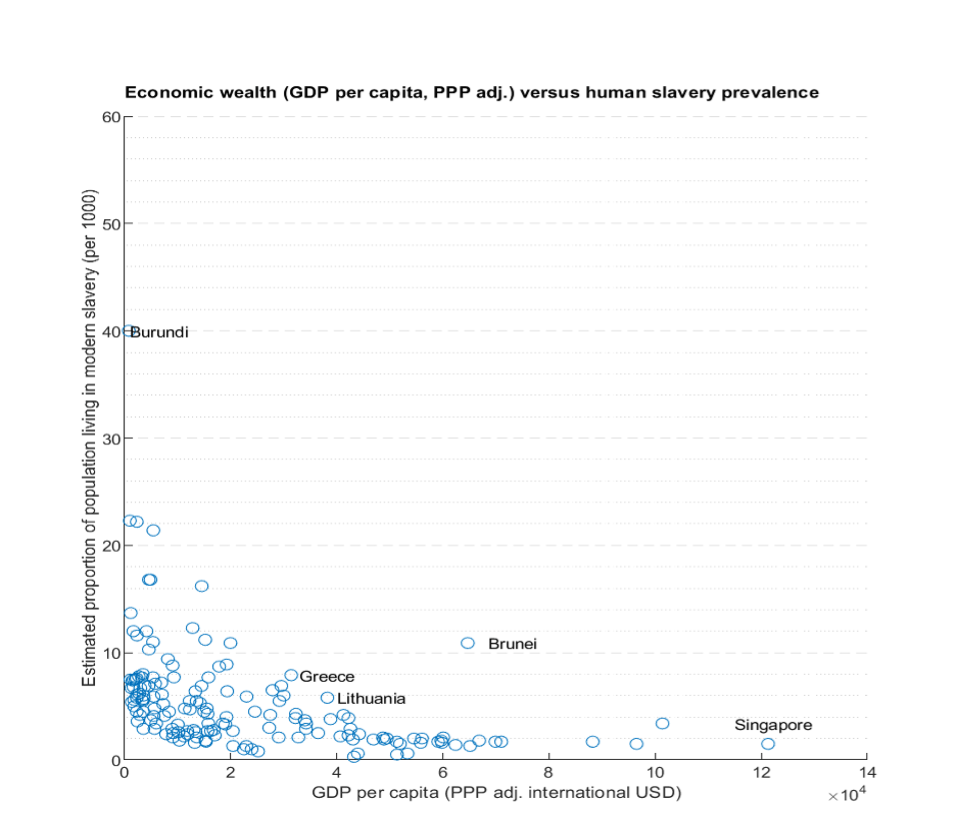 Similarly, certain products such as gold, cocoa and electronics are particularly likely to be produced using forced labour, as identified by the Global Slavery Index.
Cotton: Kazakhstan, Tajikistan, Turkmenistan, Uzbekistan
Bricks: Afghanistan, India, Myanmar, Nepal, Pakistan
Garments - Apparel & Clothing Accessories: Argentina, Brazil, China, India, Malaysia, Thailand, Vietnam
Cattle: Bolivia, Brazil, Niger, Paraguay
Sugarcane: Brazil, Dominican Republic
Gold: Democratic Republic of the Congo, North Korea, Peru
Carpets: India, Pakistan
Coal: North Korea, Pakistan
Fish: Ghana, Indonesia, Thailand, South Korea, China, Japan, Russia
Rice: India, Myanmar
Timber: Brazil, North Korea, Peru
Brazil nuts / Chestnuts: Bolivia
Cocoa: Cote d'Ivoire, Ghana
Diamonds: Angola
Electronics: China, Malaysia
The upshot is that forced labour continues to pervade much of the global economy, with victims of slavery working in diverse areas from construction and agriculture to the sex industry, nail bars, car washes and cannabis farms. A good place to learn more about the importance of such products for specific countries is the United Nations Comtrade database, which lists the main exports and destinations for each country.
Fortunately, the public is becoming increasingly aware of the challenge of forced labour. As a result, pressure is growing on businesses, corporate leaders and investors to do more to protect human rights and eliminate slavery. 
Human trafficking often leads to slavery
Human trafficking is closely related to modern slavery. For perpetrators, it is the 'supply'—the exploitative process by which a person is delivered into forced labour or sexual abuse. And as global supply chains grow increasingly complex, many companies are not even aware of the risk, much less in a position to manage and mitigate it. This is also an issue for financial institutions, many of which become unwitting accomplices when they handle funds that are associated with, or even directly generated by, slavery or human trafficking as the perpetrators endeavour to launder their money.
Forced labor: Treaties and regulation 
The most important international treaties against modern slavery are the 1930 Forced Labour Convention the 1957 Abolition of Forced Labour Convention. In 2014, a new protocol came into effect to strengthen efforts to eliminate forced labour and human trafficking. You can find details here, including a list of countries which ratified the treaties.
In 2021, the European Commission adopted a package of sustainable finance measures, which includes the requirement for nearly 50,000 companies in Europe to disclose information on social and environmental challenges that would impact all large and listed businesses. 
While mandatory human rights due diligence in the UK has yet to be decided, the country has introduced the Modern Slavery Act 2015 (MSA 2015). This legislation raises awareness of the issue and makes the case that exposing organisations to public scrutiny would help them become more proactive and improve their supply chain management, but stops short of encouraging businesses to map their supply chains. If you want to read more on this, you might take a look at two articles by Boglarka: 'ESG post Covid-19' and 'Human rights governance and modern slavery in the UK'.
Recently, the Swiss held a referendum on whether to hold companies accountable for human rights issues and environmental standards, in Switzerland as well as their entire global supply chain. While 50.7% of the public vote turned out in favour of the initiative, the Ständemehr (state vote) rejected it and, as a result, it will not come into effect. 
In the EU, the 'Directive (EU) 2018/1673 of the European Parliament and of the Council of 23 October 2018 on combating money laundering by criminal law' is an important regulation that explicitly mentions human trafficking, migrant smuggling and sexual exploitation as predicate offences and requires organisations to screen financial transactions and clients for such activities.
What needs to be done: Transparency, transparency, transparency
At CountryRisk.io, we focus our work at the country and government level and support our users in analysing and understanding country risks for various applications, such as sovereign default, ESG country or AML country risk. One of the most important aspects of what we do is to remove the pain point of sourcing, cleaning and aggregating data from various sources. 
When it comes to modern slavery, we recommend as a resource the Global Slavery Index and publications by the Australia-based Minderoo Foundation. The Global Fund to End Modern Slavery is also excellent.  
As we outlined above, human trafficking is closely related to modern slavery. To learn more about the prevalence of human trafficking in a given country and what its government is doing to address it—including scores for each country's efforts to eliminate human trafficking—we recommend the Trafficking in Persons Report by the US Department of State. 
The Sustainable Development Goals (SDGs) also cover these topics. Target 8.7 of the SDGs focuses on the elimination of all forms of child labor by 2025 and the eradication of all modern slavery and human trafficking by 2030. 
Another great resource is the United Nations Office on Drugs and Crime, which offers a wealth of statistics on sexual crime and human trafficking.
Finally, the International Labour Organization has a dedicated webpage on the topic. 
We've pulled together data from all of these sources into a single spreadsheet, which we hope you will find useful in your work as ESG investment analyst or AML specialist. As always, we appreciate your feedback or suggestions for other aspects of modern slavery and human trafficking that you'd like to see us cover—you can reach us at [email protected].

Written by:
Bernhard Obenhuber